About MDS Leisure
Essential services for the sports and leisure industry
For over 20 years, MDS Leisure has provided on- and off-site inspection and repair services for sports equipment and play equipment. Since 2017 the team has also created bespoke inflatables, including their best-selling AirPit Landing Mat and AirPit Tumble Track which have revolutionised gymnastics landing equipment.
Origins
MDS Leisure was started in 1996 by brothers Matthew and David Sweed, who took their combined initials to create the business name. Originally the business specialised in deep cleaning childrens play areas including ball pits located within public houses. As a logical extension of this they soon started to execute repairs and in due course alterations.
Repairing
MDS Leisure soon won contracts throughout London and the South of England. Matthew had discovered a unique ability to repair and reassemble heavy-duty materials. He soon got "into" repairing inflatables including bouncy castles: Matthew's unusual approach – repairing inflatables from the inside – led many leisure centre staff to nickname him "The Inflatable Man"!
Inspecting
MDS Leisure's reputation for craftsmanship and high-quality repairs soon extended further into leisure centre and sports centre equipment repairs, including arena curtains and nets, gym equipment and sports hall servicing.
Consulting
Matthew is a qualified NEBOSH Health and Safety Risk Assessor (Level 3) and a PIPA Inspector. David holds both PASMA and IPAF certification. The pair now provide a valuable inspection and consultancy service to gymnastics clubs, sports and leisure centres.
Creating
Since 2017 the main growth area for the business has been the creation of inflatables: for sports and gymnastics, for the theatre stage and for children's play. Combining their talents, skills, creativity and experience Matthew and his team now create, design and manufacture bespoke inflatables of all shapes and sizes and for multiple purposes. Whether you're looking for an inflatable structure, an inflatable to fit a uniquely shaped pool, padded protection for walls and brackets or highly safe landing equipment for gymnastics - just tell us what you have in mind and we'll be on it! During 2020 we've also become experts at the design and manufacture of screens and other products for PPE, these are extending into covers and screens for all sorts of related purposes such as the expanding of school classes into outdoor structures. Whatever you're now thinking of we can probably create it so just get in touch!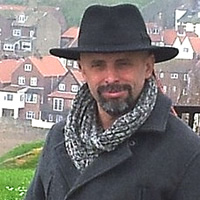 Matthew Sweed
(Guru, believes he is in control)
For more than twenty years Matthew has been working within the sports and play industry specialising in everything from multi-level soft play to almost every kind of inflatable you can imagine, apart maybe from hot air balloons!
For the past ten of these years he has been also been working to improve the standards of equipment and service to gymnastic and trampoline clubs.
He is able to create a new product from an idea, then execute the whole process through to a working prototype, or in the case of a bespoke repair or alteration to plan and execute works of the highest quality.
Matthew is a fully qualified NEBOSH Health and Safety Risk Assessor (Level 3) and will soon qualify at Level 5. Matthew is a PIPA inspector and a key part of the PIPA scheme for inflatable play equipment, sitting as a member of the "PIPA Leadership Group" and helping to improve the scheme in line with HSE expectations and the requirements of HSG175. In 2020 Matthew also became the new Director of Inflatables for the RPII.
In the rare moments when Matthew isn't working, he can be found zooming around on his motorbike, a strange mix with his expertise in health and safety!

Previously a chef, Matthew's first love is cooking. He's a real foodie and can often be found in the kitchen producing amazing food - his paella is legendary! Matthew also loves watching documentaries on TV, music, steampunk and Victoriana.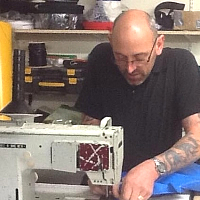 David Sweed
(Expert mender, master of self-control)
Originally David was Mathew's Business partner and was a fundamental part of the growth of MDS Leisure. He holds a wealth of information, knowledge and expertise relating to commercial play and sports equipment. This, coupled with an incredibly wide practical skill base, means that there is almost no task that he cannot complete, both in repairing and manufacturing new equipment.
David has been a key factor in all MDS Leisure designs and works for many years and remains a vital part of our business, he is at present training to enhance his design abilities with improved CAD abilities.
When David is not working he is a DIY expert and all-round handyman – he's also a fully qualified mechanic! Dave enjoys cooking, listening to music, watching films and riding his motorbike.
David holds IPAF and PASMA certificates, ensuring the safe and effective use of powered access machines as well as safe working at height on mobile access towers.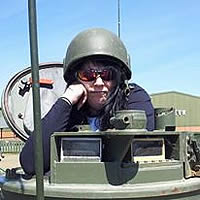 Julie Sweed
(Bean counter, thinks she is in control)
No business or undertaking can survive without effective administration and this is where Julie really comes into her own! Julie oversees all our administrative operations and ensures that our customers receive their quotes, our suppliers receive their payments and that everyones' friend, "the tax man" receives just what he is owed.
Julie is Matthew's Business partner and takes an interest in all areas of the business helping to set directions, styles and lend a hand. Like most of the MDS team she is multi skilled and understands to a high level how all of our operations are carried out.
When not working for MDS Leisure, Julie is a keen gardener, handy woman and enjoys riding her motorbike called Moses. Her first love is hairstyling; she has her own business T.O.C Hairdressing. Previously a singer and actor, Julie has starred in leading roles as 'Principal boy' in several pantomimes! She loves music and good food. And she is always right.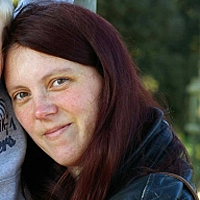 Michelle Sweed
(Works coordinator, never in control)
Michelle works as our office administrator and carries out all the daily duties involved in this. She is responsible for looking after our customers' requirements from the moment they call or e-mail, during completion of the required service and afterwards too, ensuring all our customers are satisfied.
Michelle is also a qualified graphic designer and can be called upon to help out where we need graphics, art work or related designs.
In her spare time, Shelly loves spending time with family and friends. She enjoys photography and a multitude of art and craft activities. She hopes to train and compete with her border collie in dog agility and would love to qualify to compete in the Kennel Club finals at the Olympia London International Horse Show.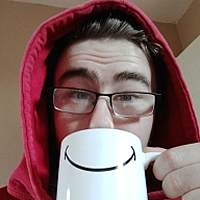 Tyron Buckle
(Digital art and design, out of control)
Tyron is learning all aspects of the business and can be found working in the office, in the workshop and often out on site assisting one of the engineers and learning the skills required for our business.
Ty is a digital artist, he has created several of the works of art you may see on MDS installations and creations, he has a passion for design and architecture and is learning to use our 3D design package with a view to specialising in design and graphics with us
When he's not working, Tyron is almost always found at his desk, gaming or designing new things in CAD. He likes to draw different styles of architecture and dystopian future cityscapes.
HAVE QUESTIONS?
We're always here to help
Email our experts
enquiries@mdsleisure.co.uk