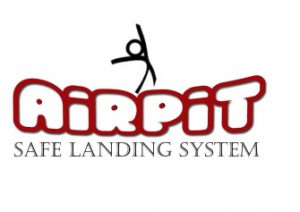 AirPit - A Safe Landing System
Inflatable gymnastics mats and tumble tracks
Our air-filled tumble tracks and landing mats are great assets for gymnastics clubs, including those with a dedicated gymnastics venue and those taking place in a general sports facility. Designed to your precise requirements, AirPit is available in dimensions and colours to fit your space and your branding.
Safe and stable air filled mats
Air track gymnastics mats provide coaches with an excellent teaching aid for tumbling skills and for the development of spatial awareness for a range of gymnastic skills, in particular rotation. The AirPit landing mat attaches to a standard trampoline and provides an excellent platform for skill progression. Our 'Three Cell' air system is stable enough for coaches to be present on the landing surface to assist gymnasts during training.
Increase confidence with safe landings
Gymnasts love our AirPit and AirTrack safe landing systems! Confidence to perform skills is increased with the reassurance of a soft landing. Additional bounce provides more time in the air to learn skills. The level of impact on the body is lower than on normal tumbling surfaces, enabling more repetitions before the onset of fatigue.
Our inflatable AirPit landing mats and tumbling tracks are perfect for artistic gymnastics, sports acrobatics and 'Team Gym' as well as other sports and activities that involve tumbling such as cheerleading, dance, and martial arts. AirPit is also the ideal solution for stunt performance.
Click on the links below to find out more about each of our AirPit landing mats and tumble tracks:
HAVE QUESTIONS?
We're always here to help
Email our experts
enquiries@mdsleisure.co.uk