Sports, Leisure and Gym Repairs
Repairs, replacements and reupholstery for sports and leisure centres.
MDS Leisure are experienced inspectors and repairers of sports and leisure equipment. Our team is qualified to carry out Health and Safety inspections of your equipment, plus the expertise to carry out any repairs, reupholstery or replacements.
We can inspect and repair your inflatables, arena nets and curtains, seating areas and exercise equipment.
Find full details of our Sport and Leisure Centre Health and Safety inspection services here.
Cleaning, fixing and building your gym equipment
Our team will visit your premises to clean, repair and build all your gym equipment. Sports centre and multi-gym equipment that we will attend includes, but is not limited to:
Adjustable pullies
Weight benches
Free weights racks
Multi gyms
If upholstery is ripped, cracked or broken, we will repair or replace to match as closely as possible.
We can also clean, repair and reupholster gymnastics apparatus, including vaulting platforms, pommel horses, beams, dismount pits, crash mats and much more! Take a look also at our range of air-filled AirPit Gymnastics Landing Mats and Tumble Tracks.
Bleachers inspection, servicing and repair
Our comprehensive inspection service to all components of your sports and leisure facilities includes your bleachers (tiered seating). We can repair and recover your seating to maintain and extend the longevity of your equipment and the safety of your clients.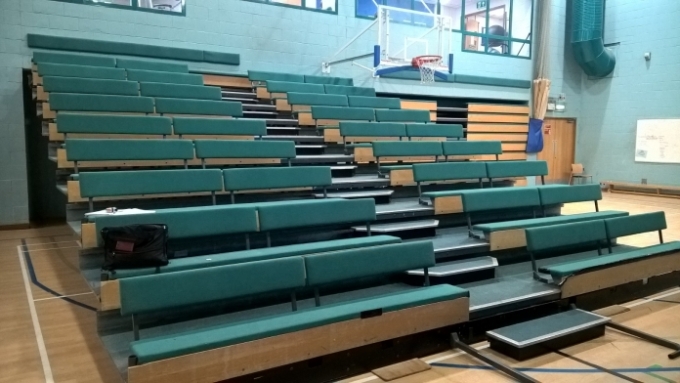 HAVE QUESTIONS?
We're always here to help
Email our experts
enquiries@mdsleisure.co.uk