Congratulations to Reddam Gymnastics!
One of our bespoke AirPits featured on the BBC news after Reddam Gymnastics in Wokingham won four British Titles and four Gold Medals at the British Team Gym Championships. The club won every section they entered - more than any other club in the history of the championship event.
Congratulations to Reddam Gymnastics, we are delighted that our AirPit has helped you on their way to such a great achievement!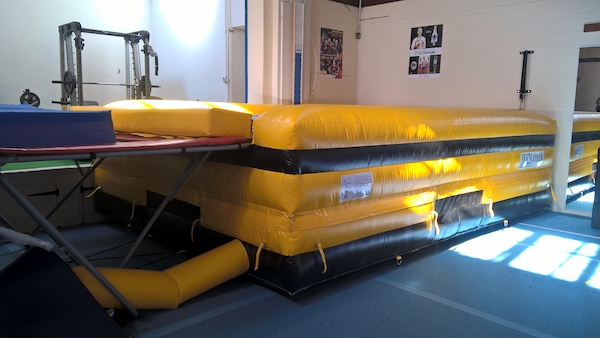 AirPit inflatable gymnastics mats and tumble tracks
Our custom-made, air-filled tumble tracks and landing mats are great assets for gymnastics clubs. They suit both clubs with a dedicated gymnastics venue and those taking place in a general sports facility.
AirPit gymnastics mats provide coaches and gymnasts with an excellent aid for the development of tumbling and gymnastics skills. The AirPit landing mat (pictured above) attaches to a standard trampoline and provides a safe platform for skill progression. Our 'Three Cell' air system is stable enough for coaches to be present on the landing surface to assist gymnasts during training.
Our inflatable AirPit landing mats and tumbling tracks are perfect for artistic gymnastics, sports acrobatics and 'Team Gym' as well as other sports and activities that involve tumbling such as cheerleading, dance, and martial arts. AirPit is also the ideal solution for stunt performance.
Find out more about the AirPit range here.