Does your bouncy castle have a PIPA tag and number?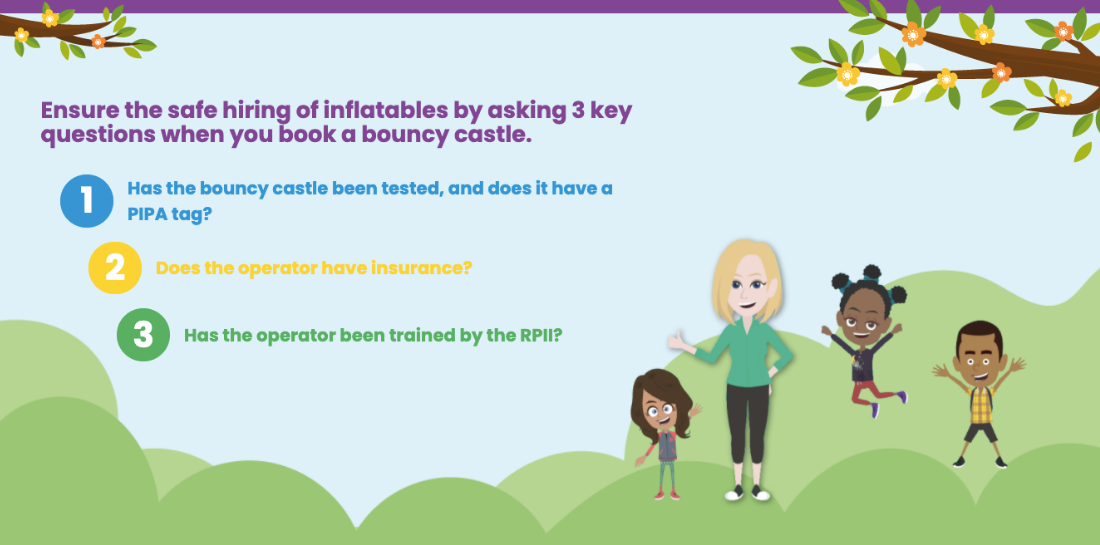 ---
It's set to be a fun summer of garden parties and bouncy castles as the nation's lockdown restrictions are lifted.
MDS Leisure owner, Matthew Sweed, has been closely involved in #BounceSafe, a new initiative by the Register of Play Inspectors International (RPII) and Pertexa Inflatable Play Accreditation (PIPA). A qualified PIPA inspector and Health and Safety expert, Matthew explains the importance of #BounceSafe.
"Many people who hire bouncy castles and other play inflatables may not be aware of the PIPA Tag. All bouncy castles and other inflatable play equipment manufactured or imported into the UK should have a uniquely numbered PIPA tag and be listed in the PIPA database. This tag means it has been tested against stringent standards and has passed the initial PIPA test."
Watch the #Bouncesafe video!
#Bouncesafe has created a useful video for people and organisations planning to hire a bouncy castle or other play inflatable (for example an inflatable slide). Find the video below!
New research from the RPII - an international body for testing inflatables and training operators - and national inflatable inspection body, PIPA, reveals that this summer 44% of all UK adults will host a garden party and one in 10 are interested or intend to hire a bouncy castle for their event.
This means 2.2 million people could be set to hire a bouncy castle or other play inflatable this summer in the UK.
Despite this, the RPII and PIPA's research reveals that 25% of bouncy castle operators are not up-to-date with inflatable inspections after the lockdown and 33 per cent of UK adults don't know what to ask regarding the safety of the bouncy castle at the point of booking one.
How to hire and use a bouncy castle safely
RPII and PIPA have launched a new campaign to raise awareness of play inflatable safety. When hiring a bouncy castle or other play inflatable, you should ask the the following 3 key questions:
Has the bouncy castle been tested, and does it have a PIPA tag?
Does the operator have insurance?
Has the operator been trained by the RPII?
What's more, it's really important that those hiring the inflatable supervise the children at all times after the operator leaves. Research shows that 73% of adults are not aware of this.
Visit the #bouncesafe website to find a list of approved hirers, and download this useful guide "Safety Tips For Hirers"
Operators: book your PIPA inspection with MDS Leisure!
The MDS Leisure team can inspect, service, repair and create improvements to all kinds of inflatables either at your premises or at our fully equipped production and repair facility. Find out more here and get in touch to book your PIPA inspection!
#bouncesafe this summer!