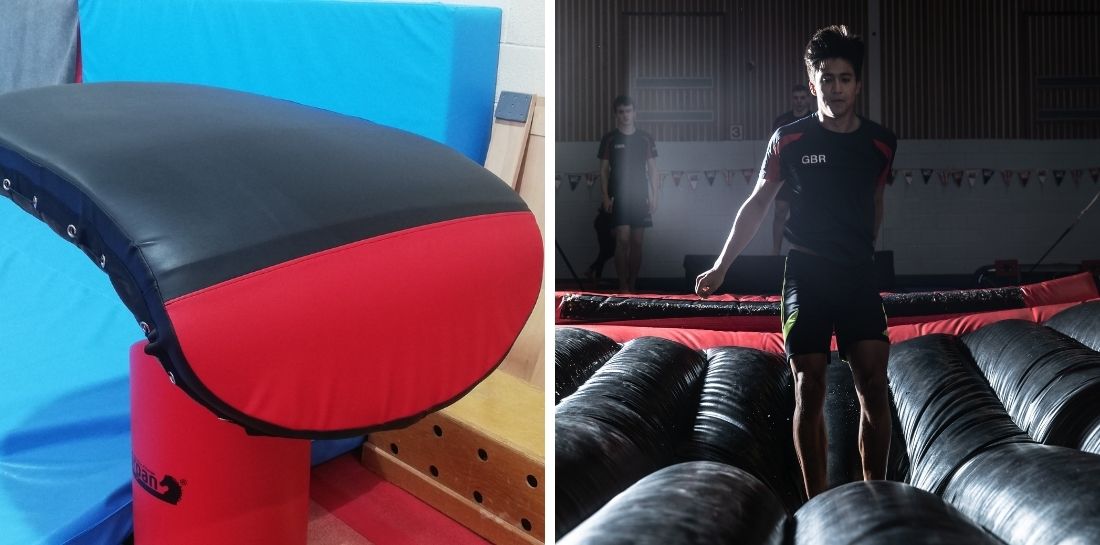 ---
Three ways to keep your gymnastics equipment sanitised
The affordable innovations of a Southampton-based business are helping gymnastics clubs and sports centres to provide safe and dynamic equipment that can be easily cleaned between use.
With a difficult year hopefully behind us, it is exciting to welcome gymnasts back to classes. Yet inevitably there will remain a responsibility to ensure that your gym club is operating in a safe and sanitised environment.
Keeping equipment sanitised can be a challenge
Whether your club is big or small, operating in a dedicated specialist gymnasium or a shared multi-sports space, keeping equipment hygienic can be a challenge. Of course, your club will have health and safety procedures in place. However in the current post-pandemic environment, the simple maths of multiple classes of young people with bare hands touching equipment one after another means you need to ensure your equipment cleaning processes are as quick and easy as possible!
In reality, some gymnastics equipment doesn't lend itself to easy sanitation between users or class "bubbles". The suede-finish fabric of the vaulting table, for example, is a particular challenge; normal anti-bacterial cleaner risks ruining the fabric or making it hard or slippery.
And then there's the dreaded foam pit – how on earth do you keep that clean between users and classes?! How regularly should you be replacing foam cubes or logs? How frequently should you be emptying the pit to carry out deep-cleaning? And how can regular deep-cleaning fit into your club's already busy timetable?
MDS Leisure: family business with innovative solutions
Enter MDS Leisure, an innovative family business based near Southampton.
MDS works with gym clubs and sports centres throughout the UK to find solutions for their problems. Health and safety expert and also manufacturer of high-quality inflatable equipment, covers and screens, MDS are particularly good at thinking "out of the box" and coming up with affordable, sensible and safe solutions for gym clubs, sports centres, trampoline parks, soft play centres and many other organisations.
Three affordable solutions for gym clubs and sports centres
Here are three simple solutions to help gymnastics clubs and sports centres operate clubs in a sanitised environment:
1) The wipe-clean vaulting table cover
MDS Leisure's Tarpan Vault Cover fits like a second skin over your vaulting table, with fastenings safely secured underneath. Made from high quality PVC, the cover enables the vaulting table to be sanitised frequently. The cover can be made to match the existing vaulting table colours – or in colours of your choice, such as your club branding. The cover protects the original surface fabric of the vaulting table, ensuring a longer life. Bespoke made, MDS can make covers for other vaulting tables and also for other items of equipment.
2) The foam pit bag – keep your foam pit clean!
Recognising the particular sanitary issues of foam pits, MDS has developed a foam pit "bag." The bag is designed to contain the foam cubes and/or foam logs within the pit, with sufficient space for the foam and bag to work together to provide a soft-landing area. Made with a flexible soft PVC topper, durable base and fine mesh sides to allow for air to evacuate.
The foam pit bag can be used in several ways. Either simply fill the bag with the foam, seal it up and just sanitise the surface as required. Alternatively you can leave your foam in the pit and use the bag as a cover. Simply feed the sides of the cover down the side of the foam pit and secure at 400mm down, use and sanitise as required!
3) The AirPit – the safe landing system that is easy to clean and easy to store!
MDS Leisure's AirPit Landing System is an inflatable landing mat that can be made to fit a trampoline, tumble track or DMT. It can also be configured to work as a dismount mat for other gymnastic equipment.
Originally designed for Bracknell Gymnastics Club, AirPit is bespoke made to ensure it meets the exact space and requirements of each club or sports centre. The AirPit inflates quickly and can be rolled and stored easily: at last providing gymnastics clubs operating in multi-sports centres with a landing system similar to the foam pit of specialist centres. Even better: the AirPit is easy to wipe clean!
Three cell air system for safe landings
Featuring the MDS 'Three Cell' air system, the AirPit provides stability for gymnasts to land correctly on their feet yet is soft enough for safe incorrect landings. In addition, its stability enables coaches to be present on the landing surface to assist gymnasts during training. The 'Three Cell' air cell system ensures it absorbs impacts well and does not deform to the degree of a normal stunt bag, allowing for rapid return to use, typically within seconds of the gymnast dismounting.
The AirPit provides the perfect combination for gymnastics training and performance progression – for all ages and abilities. Perhaps more than a foam pit, the AirPit puts the emphasis on the gymnast to land correctly, in the knowledge that there will be a soft safe landing if things don't go quite as planned. The fact that a coach can be present on the AirPit adds confidence to the gymnast.
Custom made to suit your space and requirements
Made from high quality PVC, you can choose whether to have your AirPit designed as a flatbed, with low side walls or even with high protective side walls on two sides if it is going to be positioned in a corner. Colour and size can be tailored to your needs, ensuring your AirPit fits perfectly into your training space and your club branding.
"The AirPit is proving to be extremely popular for artistic gymnastics, recreational gymnastics and also team gym clubs. We love to solve problems and encourage clubs to really think about how they'd like to use the AirPit, along with their space limitations." said Matthew Swede, owner of MDS Leisure and often known as the "Inflatable Man"!
"Recent designs have included high walls that can be secured to the wall, enabling safe use in a corner and from two different directions. In addition, we make multi-layer AirPits, enabling use with different height equipment.
Get in touch for a friendly chat about your needs today!
Call 023 8178 3435 or email enquiries@mdsleisure.co.uk for an initial discussion with Matthew - or if more convenient complete the contact form here