---
Custom made screens create more space.
Space is a challenge - and also the solution! From sneeze-guards to barn sides to enclosed porches to (essentially) more space. Space can be the issue and a challenge – and space is also the solution.
Quantum leaps are a daily stride for local family owned and run manufacturing firm MDS Leisure, which specialises in sports, play and gymnastic equipment. The talented team like to think out of the box when necessary to find a solution. Over the past year the team has seen an increase in demand for screening - for both indoors and outdoors.
And the inside is now coming out, for schools and hospitality businesses which need to create more indoor space for socially distanced classrooms, extended office space and larger areas for dining and socialising.
How it all began - sneezeguards!
Producing items from PVC fabric is a basic skill of MDS Leisure.
Which explains how early on in the first lockdown, Matthew Sweed owner and creative force of MDS realised that making sneeze-guards was an easy and obvious initiative his team could contribute to the Covid crisis. And so they began.
And if you need sneezeguards click here!
The snowball effect to screens and shields
Then a couple of local companies asked them to produce countertop sneeze guards.
Next a couple of those companies' customers enquired as to whether MDS could scale the sneeze guards up. And up some!
The first wanted a barn side to create a weather shield for extended space for social distancing requirements.
Word reached the schools
Word then reached a local primary school, desperately in need of more space and struggling to find a company which could enclose a large porch area for them without having to resort to hard panel options.
As Matthew says, with sleeve and frame or indeed lashing, it's quite easy to extend the principles of sneeze guards. Or rather it's probably not easy - but because his team are so skilful with needle and thread, it's just second nature.
Lashing or sleeves or taping – whichever best suits the structure and the need
MDS now produces panels that can be fitted in a variety of ways: they can be lashed to a structure, sleeved on using rails or of course by using Luff tape in a similar manner to modern marquee production.
As Matthew says: "We can even go old school with Dutch lacing!"
More indoor space required at St Patricks School Southampton
At St Patricks School, the outdoor space was available and the requirement was to extend a porch area which already existed.
Says Matthew: "The installation required us to create a mounting system that had to wrap the legs of the structure and attach nicely into the porch soffit, this was established using a variety of methods to ensure a clean and tidy fit. Other companies were apparently saying it couldn't be done.
My brother David has been working increasingly with CAD and this was when we took a quantum leap in our design process because we realised that deploying CAD into our armoury in this kind of situation we could be confident to get the fit right.
And indeed and to our delight and that of all concerned, all screen and panels produced fitted perfectly, first time, and the CAD had also enabled us to maximise window space and allow light to flood into the area."
Perfect fit for MDS skill base
"The project was created entirely from durable, waterproof PVC fabric, our chosen material for this job has a weight of 610gsm and gives a perfect weight to durability level for canopies and screens.
These kinds of works sit easily in our existing skill base as we have been producing bespoke works for soft play and sports centres for many years, a lot of these works have been complicated 3D designs such as specialist landing mats and art worked wall panels to feature in high end soft play centres.
As with all our work we look first at the site and discuss requirements with the client.
We do not produce anything that does not suit requirements, aesthetics, and expectations!"
What if there is no existing structure to extend?
Matthew continues: "St Patricks did have an existing porch structure to begin with. If this had not been the case then we would have been able to design and install a roof system that would have fitted well with our panels to create the outdoors/indoors space that they were looking for.
However, the ideal setting for these types of panels is to enhance an existing structure such as a porch, lean-to or pergola type of structure. Which for many organisations is in fact already in place.
The key requirement though is the pre-existing outdoor space, this can quickly be transformed to meet indoor space needs.
Call 023 8178 3435 or email enquiries@mdsleisure.co.uk for an initial discussion with Matthew - or if more convenient complete the contact form here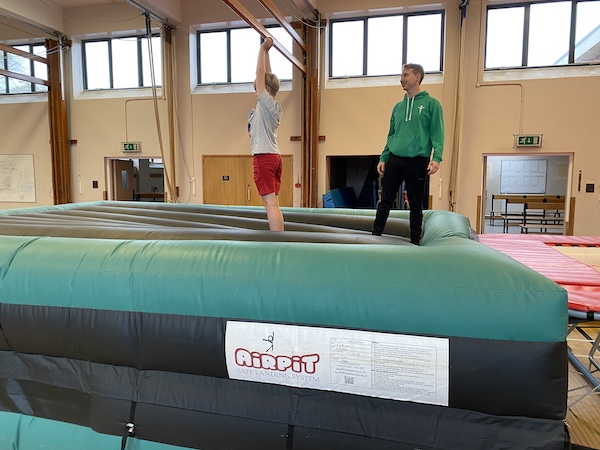 ---
The 'Three Cell' air system ensures that this air filled gymnastics landing mat is stable enough for gymnasts to land on their feet - and for coaches to spot on the same surface.
---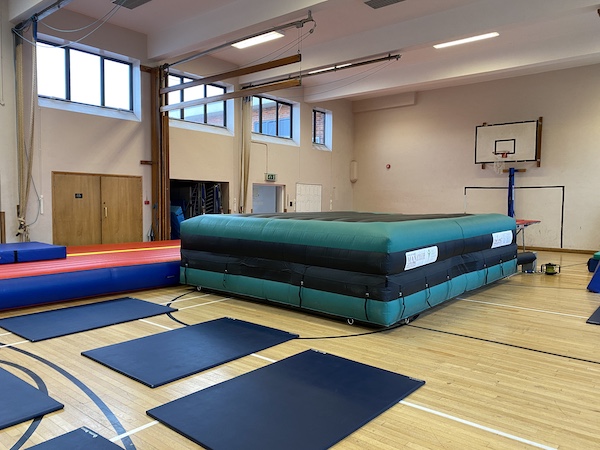 ---
The AirPit Safe Landing Mat is designed to use with a normal size trampoline. It inflates in under one minute and rolls up for easy storage. As you can see it can be used in most school gyms and sports halls alongside other inflatable mats.