The AirPit Corner Landing Mat with High Walls by MDS Leisure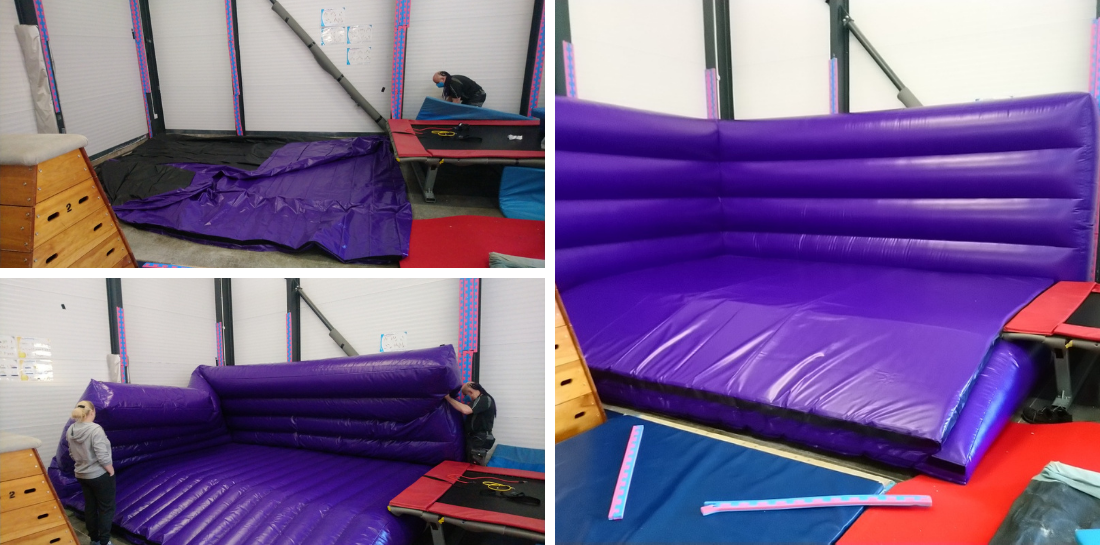 ---
Over the years we've visited and spoken to so many gym clubs that have limited space. And as the gymnastics discipline expands - for example with team gym, sprung runways and DMTs - the pressure to cram more and more into your gymnasium is immense.
What's more, gym clubs and sports centres need landing mats that provide the flexibility to be used for multiple disciplines.
Often this leaves coaches and management scratching their heads!
AirPit Landing System: a bespoke air-filled gymnastics landing mat
Our air-filled tumble tracks and landing mats are great assets for gymnastics clubs, including those with a dedicated gymnastics venue and those taking place in a general sports facility. We design each AirPit to meet your precise requirements, in dimensions and colours to fit your space and your branding.
Recently we made this AirPit Corner Lander to solve a space issue at "The Vault" in Amesbury. When inflated, the high walls fasten securely to the wall on two sides - meaning a previously difficult and potentially dangerous corner can now be used as a landing area from two different directions (although not at the same time, obviously!)
AirPit Corner Lander with High Walls
Just like our other AirPit designs, the AirPit Corner Lander with High Walls rolls up for easy storage.
It is simple to unroll and inflate, then to carefully attach the walls as they become full of air.
The high walls are designed to protect gymnasts who might over-rotate and run into the wall on landing - often a concern after a fast tumble or moves involving complex rotation.
This particular project has a gradient on one side and a second landing mat that can be completely removed - providing the ultimate flexibility for use with different pieces of gymnastics equipment.
Unique air filled gymnastics mats enable safe and correct landing
Featuring our 'Three Cell' air system, AirPit provides the stability for gymnasts to land correctly on their feet yet is soft enough for safe incorrect landings. It absorbs impacts well and does not deform to the degree of a normal stunt bag. This allows for rapid return to use, typically within seconds of the gymnast dismounting.
A great coaching aid
In addition, the stability of AirPit enables coaches to be present on the landing surface to assist gymnasts during training. This provides an excellent teaching aid for landing and for the development of spatial awareness for a range of gymnastic skills, in particular rotation.
Gymnasts love our AirPit and AirTrack safe landing systems! Confidence to perform skills is increased with the reassurance of a soft landing. What's more, the air system provides gymnastics with stability to land correctly on the feet sooner than with a foam pit.
Custom made to meet your exact requirements
Our AirPits are bespoke made. You choose to have high walls, low walls, no walls, additional layers and much more to ensure your AirPit works exactly as you need. Colour and size can be tailored to your requirements, ensuring your AirPit fits perfectly into your training space and your branding.
Get in touch to discuss your AirPit needs!
Contact us to discuss your exact AirPit requirements