---
A new concept in gymnastics landing mats.
The AirPit was born from a desire to help gymnasts practise landing moves on their feet rather than in a foam filled pit. MDS Leisure worked with Bracknell Gymnastics Club to design and build an air-filled safe landing system.
For years, the foam-filled dismount pit has been a feature of many an elite artistic gymnastics club. The sport of gymnastics has evolved and expanded dramatically over the last twenty years, providing additional opportunities for many clubs without a bespoke gymnastics facility to excel. The British Trampolining Federation united with British Gymnastics in 1999 in time for the 2000 Olympics. Around the same time, Team Gym emerged as a new focus for many clubs, with team routines on floor, trampette and tumbling track. More recently Double Mini Trampoline (DMT) has emerged as a discipline alongside tumbling and trampolining.
Flexible, inflatable landing mats for all sports facilities
These new disciplines focus less on a 'dismount' from apparatus and more on the safe landing of a dynamic sequence or somersault. At the same time, there was a real need for clubs at all levels, from beginner to elite, to have flexible mat systems to suit all gymnastics disciplines and multi-sport facilities such as schools and sports centres.
Whilst other manufacturers of air filled gymnastics mats have focused on tumble runs and smaller crash mats, MDS Leisure designed a larger air filled landing mat, designed to be used with trampoline and DMT with added stability from a cellular air system.
Encouraging safe landings on feet
Featuring our 'Three Cell' air system, the AirPit Inflatable Gymnastics Mats have been designed to encourage gymnasts to land on their feet, yet also provide a soft landing surface for for incorrect landings. The 'Three Cell' system ensures the mat absorbs impacts well and does not deform to the degree of a normal stunt bag, allowing for rapid return to use, typically within seconds of the gymnast landing.
Gymnasts benefit from increased confidence to perform skills with the reassurance of a soft landing. Additional bounce provides more time in the air to learn skills. The level of impact on the body is lower than on normal tumbling surfaces, enabling more repetitions before the onset of fatigue.
Stable surface for spotting on the mat
The 'Three Cell' air system is stable enough for coaches to be present on the landing surface to assist gymnasts during training. This provides coaches with an excellent teaching aid, especially important when gymnastics are starting to learn new moves and need the confidence of their coach spotting nearby.
AirPit is custom made to your exact requirements
We design and manufacture our AirPit products to meet your precise requirements. Choose from the original AirPit Landing Mat that attaches to a trampoline, the AirPit Soft Lander, the AirPit Tumble Track - or perhaps your idea for a bespoke AirPit. You choose the size, the colour, whether to have side walls or a flatbed. All AirPits come with a Gibbons Fan inflation device, a two-year warranty plus Health and Safety certification for one year. Each AirPit is inflated and inspected prior to shipping to ensure they are safe and suitable for use.
Find out more about our AirPit Inflatable Gymnastics Mats here.
Get in touch with our team to discuss your Gymnastics Mat requirements.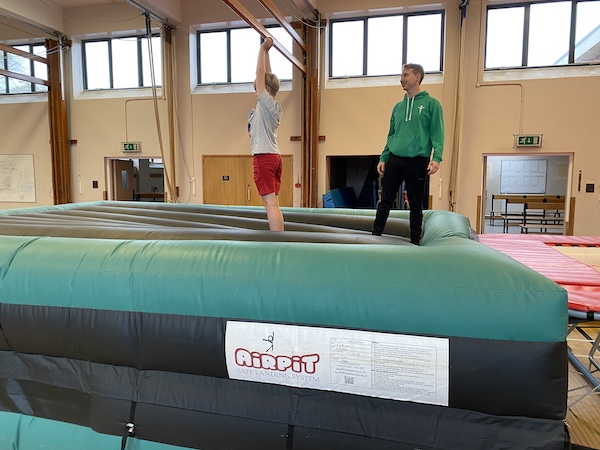 ---
The 'Three Cell' air system ensures that this air filled gymnastics landing mat is stable enough for gymnasts to land on their feet - and for coaches to spot on the same surface.
---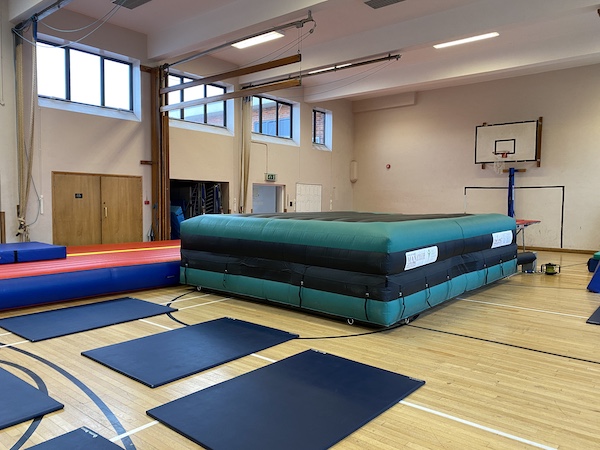 ---
The AirPit Safe Landing Mat is designed to use with a normal size trampoline. It inflates in under one minute and rolls up for easy storage. As you can see it can be used in most school gyms and sports halls alongside other inflatable mats.