AirPit Landing Mats: excellent performance for serious gymnasts
---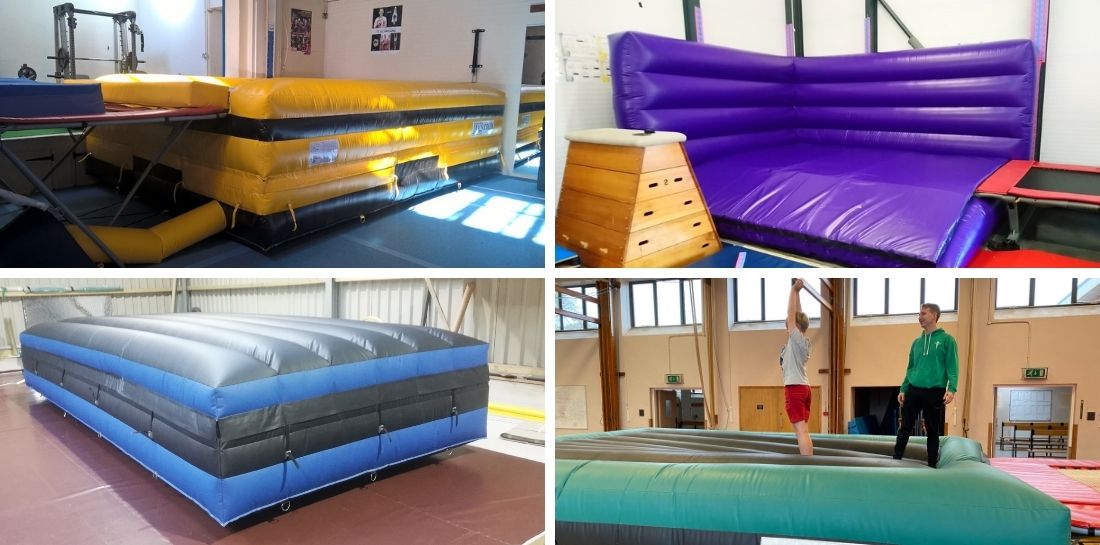 Built to last: custom made using high quality materials
Our unique AirPit is custom made in the UK using high quality materials and with a number of special features which make it not only stronger and longer lasting, but also better for a wider range of learning and training.
Recently we were called by the owners of a gymnastics club that had major issues with their landing pit. Not long ago, attracted by bargain prices on the internet they had purchased an air landing pit from a supplier in Asia. After just a few months of use, a number of the vertical air cylinders inside the mat were disconnected at the top. The mat appeared saggy where gymnasts were landing, affecting their performance and making the mat extremely dangerous.
Sadly, there is no long-term fix for the issue as it is due to poor design and manufacture. Where the club thought it was getting a bargain, the mat has now been scrapped. Bad for finances and for the environment.
Long-lasting strong support from our Three Cell Air System
MDS Leisure AirPit Landing Mats are designed using our unique Three Cell Air System to provide long-lasting strong support. Working like a shock absorber, the Three Cell Air System sinks a little with the gymnast to absorb the initial impact on landing, then immediately resists the weight and rapidly returns for use, typically within seconds of the gymnast dismounting.
The strong and stable pressurised area provides the stability for gymnasts to land correctly on their feet yet is soft enough for safe incorrect landings. It absorbs impacts well and does not deform to the degree of a normal stunt bag.
The Three Cell Air System is also stable enough for a coach to be present on the surface, either to assist, instruct or provide confidence to the gymnast learning new moves.
Expertly designed and constructed to ensure the safety of users
Every AirPit is made, and every single element thoroughly tested, in our bespoke factory near Southampton in the UK.
Matthew Sweed, owner of MDS Leisure, is a health and safety expert with extensive knowledge of the sports and play equipment industry. Matthew is involved with the design of every AirPit made by MDS Leisure, ensuring that health and safety is at the forefront of the design and manufacture.
A great asset for your club - bespoke made in the UK
AirPit landing mats are valuable assets for gymnastics clubs, both those with a dedicated gymnastics venue and those taking place in a general sports facility. AirPit can be used for a broad range of gymnast abilities, from beginners to elite squads.
Your AirPit will be tailor-made to meet your club's precise requirements, designed to fit your space, with or without side walls and additional layers according to use, and in colours to match your branding or other equipment. And all at an affordable price!
Get in touch to discuss your AirPit needs!
Find out more at www.mdsleisure.co.uk and get in touch for a free consultation on how AirPit could meet the needs of your gymnastics club.
Contact us today to discuss your exact AirPit requirements.